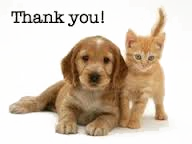 L.I.F.E. Animal Rescue can't succeed without the tireless efforts of our volunteers and the incredibly generous contributions we have received from animal lovers like you, who share in our conviction that "their lives matter." As a non-profit organization, we rely entirely on charitable donations. In order to continue our work, we need your help.
By choosing to make a single donation or by contributing monthly to L.I.F.E. Animal Rescue, your generosity will help to end animal suffering, neglect and abuse. It will help us find loving homes for abandoned pets and address the population crisis which sees millions of healthy cats and dogs killed every year.
All donations are tax deductible.  We are a non profit 501c3 organization.  Our Non Profit ID # is 95455-0643.
One Time:
Please help us to help them!  Simply click on the PayPal button to make a one time donation.

Monthly:
Help The Incredible International Dogs- Sponsor a Freedom Flight to Los Angeles!
It costs between $300 and $1000 dollars to bring a dog from one of the countries we work with to Los Angeles.  They have all been victims of horrific crimes against them, and each one has a dream of a better life, and a new beginning.  The only hope for us to make this possible is with your help!