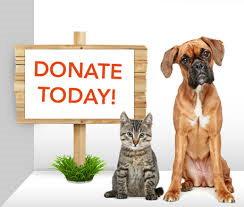 We are in need of funds to help all of our dogs and cats, and especially some of the less fortunate rescue animals. Many of our rescues are in need of extra medical care before they can be adopted. Dogs like Malcolm, who was run over by a car and had to have pins inserted in his leg so that he could walk again. Cats like Chayla, who was beaten so severely her leg had to be amputated.
These are all special animals that despite their harsh experiences with people, are still very loving and trusting animals willing to give us a second chance.
Your generous contributions help us rescue animals that really deserve to be loved!
We are a participant in the Ralphs Club Card giving program where a portion of the sales from
registered Ralphs Club Cards will go to our organization. If you do shop at Ralphs, or want to start,
please register your Ralphs Club Card with our organization ID number so that a percentage of your shopping will be donated to us.
More information: Ralphs Community Contribution Program
is a proud supporter of L.I.F.E. Animal Rescue. 5% of all sales placed through 1928.com are donated to our rescue organization.
For those who love all things vintage…1928 is for the chic fashionista on the hunt for affordable antique and vintage inspired jewelry and accessories. Please visit 1928.com
Supplies Needed:
For Dogs:
We can use donations of unopened bags of Science Diet Small Bite Chicken dry dog food, toys for dogs, blankets and comforters, leashes, adjustable collars, and martingale collars
For Cats:
We can use donations of unopened bags of Nutro Max Cat & Kitten dry cat food, canned cat food (all types), Donut Fleece cat beds, towels and blankets, bags of clay, non-clumping litter, and unused or barely used scratching posts.